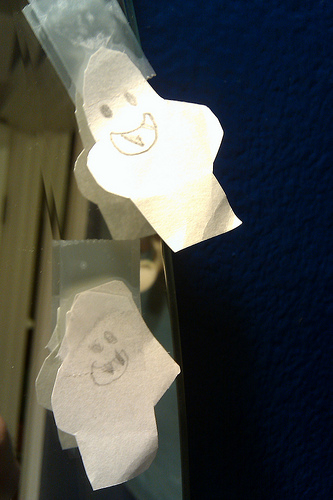 Haunted Hotel Wolcott?

Could it be possible that New York's West 31st Street Hotel Wolcott – designed by John H. Duncan and built in 1904 and restored in 1975 by Scott Erlich – is haunted? Whether it is or not, it's quite the sight, boasting an ornate stonework exterior, limestone and brick, and a modernly-restored interior. While some of this could do with some work (the steel grates have turned a somewhat green hue over time), the restored lobby boasts crystal chandeliers, marble columns and ceiling colors coordinated to match its carpet. Wood columns have replaced the marble, and artisan Felix Chavez has restored the plasterwork.

Renovation V Modernization

Still, even though there has been a great deal of (necessary) renovation, it has been Erlich's intention from the start to keep everything to as much of its original look as possible. It's clearly a very special building; it's been frequented by lots of interesting people, including Buddy Holly, Miles Davis and even titanic survivors! Every room is quite different, in style and even shape, boasting huge closets as was the day's style, which is perhaps what lends it its eerie flavor. Guests have reported seeing two little children playing at the top of the lobby stairwell or hearing a radio that's not on. But what's great about these weird and wonderful things is that people don't get scared when they experience them here as, according to Erlich, it's "part of the charm." So much of New York happened in this building that makes it what it is today. For example, Edith Wharton authored "The Fruit of the Tree" and Mayor Fiorello LaGuardia's hosted his inaugural ball.

Back to Basics

Although the prices for a room are relatively inexpensive for a New York hotel these days (at $180), back in the day in 1904, a "room with a bath" was advertised for a mere $3 a night! It remains a quiet street, conveniently located close to the Empire State Building and Madison Square Park. While some of the culture is missing from old times (the Opera House is no longer and the Theatre District has moved) it still has its tranquil feel. Now Erlich is renovation the huge ballroom which has been the venue for Bon Appetit and GQ photo shoots. He's considering an upscale restaurant or bar now for the space.

NY Hotel with a Difference

What's happening with other hotels in the area? There are constantly new hotels being erected but somehow, one in particular, is suddenly garnering all the attention. Perhaps it is because the 550,000 square foot building is to be erected in the Brooklyn Bridge Park. Yes, actually inside the park. Being handled by Rogers Marvel Architects, the design will enable each floor to include some vegetation at the top so that the building ends up "blending" with the park. As project architect Jonathan Marvel explained, "we didn't want the building to draw too much attention to itself. We wanted it to be a good neighbor."

Indeed, it looks like that's exactly what the building is going to be since the white limestone that will be used for the construction will reflect the changing sunlight so that people on ferries and drivers crossing the Brooklyn Bridge will see a building by the water changing with the light from the river that, in the late afternoon sun will burn brown and in the early morning will cool off. The intention is for the building to really "respect the park," so it will comprise natural finishes and wood-coated support columns.

So the next time you're in the Manhattan area visiting and you don't want to stay in one of the standard hotels, think about meeting up with some ghosts or ending your nightly stroll in the park in your bed! Yes indeed, Manhattan really does have it all!